Tree disease found in Tollymore forest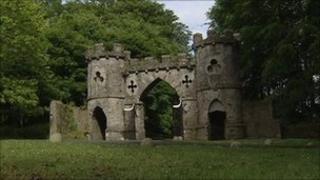 A serious woodland disease has been found in one of Northern Ireland's best known forest parks.
It is a new strain of the infection that has led to thousands of trees being felled across Northern Ireland.
This time the affected area is Tollymore Forest Park outside Newcastle.
The Department of Agriculture said measures were being taken to control the disease at Tollymore, including felling infected trees.
The disease - caused by a pathogen known as Phytophthora lateralis - affects Lawson cypress trees.
This type of tree would not be used for commercial reasons and so would not be particularly widespread in Northern Ireland, although it would be planted in some gardens.
The disease infects tree roots which come into contact with spores in the soil or water, and kills most Lawson cypress trees it infects.
Trees felled
While about two hectares - more than 800 trees - are affected in the forest, the Department of Agriculture has said it should be stressed that this is about half of one per cent of the park.
A spokesperson for the department said: "Measures to control the disease at Tollymore include the felling of infected trees which is a normal practice when dealing with this type of tree disease.
"While the majority of the forest currently remains unaffected, it will be necessary to restrict public access to certain areas to prevent soil movement.
"We would ask users to observe signage at the site and to remain on the way-marked paths."
It had been a difficult year for Northern Ireland's forests.
The fungal disease P. ramorum (often called Sudden Oak Death) has already infected tens of thousands of Japanese larch trees.
By April, it has led to the felling of over 200 hectares across nine woodlands.
The disease may also have jumped species and has infected a Sitka spruce in the Republic of Ireland and several beech trees in County Down, in the north.