Van hijacked ahead of Apprentice Boys' parade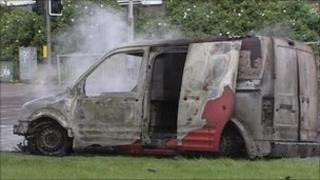 A van has been hijacked and set on fire in Londonderry.
The attack in Madamsbank Road in the Shantallow area at 12:30 BST, came as thousands of Apprentice Boys prepared for a parade in the city.
Four masked men threw petrol bombs into the post office van and ran off. The blaze was put out by firefighters.
Police have received reports of other attempted hijackings in Derry and have urged motorists to be vigilant.
Fifteen thousand people travelled to the city for the annual Apprentice Boys' parade.
One hundred-and-forty bands marched through the city centre, amid tight security. The parade was the culmination of this year's week-long Maiden City Festival.
Clash
Dissident republicans staged protests against the loyal order demonstration throughout the day. Minor disorder broke out on Shipquay Street when a number of police officers were pushed and kicked.
Parish priest Father Michael Canny said disruption was not widespread.
"I think those that engaged in the protest did so in a dignified and peaceful way. There have been some minor incidents in the city which is regrettable," he added.
The trouble followed an attack on the the Apprentice Boys' Memorial Hall on Friday night. Several dozen petrol bombs were thrown in the direction of the building from the bogside, according to police.
Chief Superintendent Stephen Martin said the disturbance was "localised" and nobody was injured.
The first of the day's parades took place on Saturday morning without incident. Local Apprentice Boys completed a circuit of the city's walls ahead of the main parade.
Speaking before the trouble the Governor of the Apprentice Boys, Jim Brownlee, said he hoped the protests planned by republicans would not disrupt the day.
"We respect that right to protest and we hope those protests are peaceful, and we hope the two events, both ourselves - in terms of the parade - and those protests, can pass off peacefully and everybody can get on with their business," he said.
Meanwhile, a contentious feeder parade passed off without incident in north Belfast on Saturday morning.
A number of protesters held placards as the Apprentice Boys passed the Ardoyne shops amid tight security.