Edwardian 'Old Tech' in danger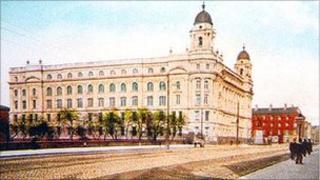 A Belfast landmark described as an Edwardian masterpiece may soon be at risk.
Belfast Technical College, otherwise known as the "Old Tech" , which is owned by Belfast Metropolitan College, has lost its students to a new build in the Titanic quarter and concerns are being raised about its future.
Rita Harkin, research officer for the Ulster Architectural Heritage Society, is upset the building is closing this month and may be heading for a government register of listed buildings that are "at risk".
"Once a building loses its use it becomes increasingly at risk," she said.
Ms Harkin accused the government of not looking after its own historic buildings and being wasteful.
"This is one of a number of examples of buildings where government has closed the door and turned the key on buildings which it should really be re-using, (and) recycling as part of that wider sustainability mantra of government."
She said the move to the Titanic quarter is "incredibly short-sighted".
The listed building was built on College Square in 1906, the same year as Belfast City Hall, and is believed to be a replica of the 1898 War Office in London.
Historian Henry Bell, who used to teach there, said it is a very important building for the city and there was great interest in the heritage tours he's been providing over the summer.
Mr Bell said the building has a number of unique features which must be preserved.
"I refer to it as a cathedral to learning," he said.
"We have seen stained glass windows in churches. Here we have them dedicated to physics, naval architecture, mathematics and science.
"But it also has what may be one of, or, the only horizontal steam engine which is still doing the job it was designed to do in 1905."
The engine, which suppled heating at the tech, once needed six tonnes of coal a day to run at full capacity.
Mr Bell said there had been hopes of the building becoming a hotel but the resources were not there amid international recession.
He too had a message for government: "I would hate to see this building go into rack and ruin. I would hate to see it go the way of some of buildings in Belfast especially the Courthouse.
"It is a marvellous building, it's part of Belfast history can we please preserve it."
The minister for employment and learning, Stephen Farry, was not available for interview, but a spokesman for the department told the BBC a process is underway to find a new use for the old building.
There are around 8,500 listed buildings in Northern Ireland - mostly in private hands.
Around 5%, more than 400, of all listed buildings are officially "at risk."
The government owns more than 40 of these, and has a target of removing 200 buildings from the register by 2016.
Manus Deery from the Northern Ireland Environment Agency works on those targets and said meeting them had become even more challenging due to recession.
"Certainly the economic downturn has an impact across all of Northern Ireland," he said.
"We know there are a number of buildings at risk. Plans were far advanced for renovation schemes and a lot of those have been put to one side with the economic downturn."
He said the challenge was securing the building for a longer-term solution.
Mr Deery said he hoped 18 buildings would come off the at risk register this year.
However, Ms Harkin said she feared others were about to join the Old Tech.
She pointed out that heritage is a good for tourism and recalled that St George's Market was almost demolished 20 years ago only to become one of the city's greatest assets today.