DNA 'links accused Raymond Wooton to Semtex find'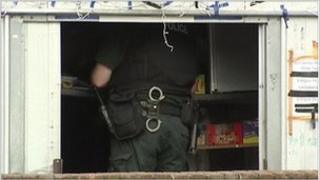 DNA links a north Belfast businessman to Semtex explosives and a revolver found in a west Belfast industrial estate, a court has been told.
Raymond Wooton, 41, from Brompton Park in the Ardoyne area faces seven charges arising out of two arms finds by the PSNI.
As well as the Semtex and gun, Mr Wooton has been charged over a bomb found in Ardyone last month.
The accused denies all the charges against him.
A prosecution lawyer said the revolver, which was found along with the Semtex in Hannahstown in January, had been used in an attempted murder and a punishment shooting by the dissident republican group Oglaigh na hEireann in April and May 2009.
He also said the bomb found last month was discovered in the back garden of a house which Mr Wooton used as a postal address.
The lawyer told the High Court the accused had displayed support for dissident republicans and attended a rally in July for Colin Duffy, who is awaiting trial on terrorist charges.
Mr Wooton's lawyer said he had no links to the industrial estate and knew nothing about the items which were found there.
"He has no truck with this sort of thing" he added.
The lawyer said Mr Wooton also denied any connections with the Ardoyne house where the explosive device was found.
He said the house was not lived in and the garden was an overgrown mess which could be easily accessed from the myriad of alleys behind the property.
He said the pitfalls of DNA evidence were well known and it was "a fiercely controversial area of forensic science".
Lord Chief Justice Sir Declan Morgan said the materials which had been found by police represented a serious risk to the public and he refused bail.