NI drum majors beat the rest to claim world titles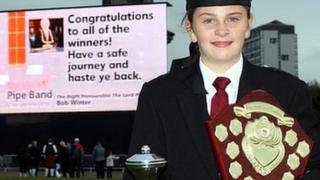 The Field Marshal Montgomery band from Lisburn may have grabbed the headlines at the weekend when they collected the top prize at the World Pipe Band Championships in Scotland.
But three bandswomen from Northern Ireland also proved they could lead from the front when they were crowned world champion drum majors at the same event.
Alicia Dickson, Lauren Hanna and Zoe McDowell won the adult, juvenile and junior sections respectively in front of thousands of people at Glasgow Green.
In total, Northern Ireland claimed 17 out of a potential 18 titles from the drum major section.
David Scott of the Northern Ireland branch of the Royal Scottish Pipe Band Association described the results as a "great achievement".
"There is a lot of dedication in Northern Ireland to this type of activity," he said.
"A number of those titles were from the junior and juvenile sections, so it says something of their parents that they get that support.
"All you hear at times is about the attitude of young people and the trouble they cause, this is a good news story.
"When I was sitting in Glasgow Green listening to the results I could feel the pride and hear the support from the Northern Ireland crowd, it was overwhelming."
'Helicopter'
Mr Scott said a large number of participants in drum major competition were female and he outlined some of the attributes required to be a world title holder.
"It is all about the control and balance of the mace," he added.
"There is one move called the helicopter and when it is executed well, it is like the spinning in the rotary blades of a helicopter.
"You have to display a variety of moves that are clean and finely tuned.
"They are also judged on their dress code, so they have to be meticulous in their appearance."
Northern Ireland last hosted the world pipe band championships in 1962 and Mr Scott said he backed calls for the country to stage the competition again.
The European championships have been held at Stormont for the past two years and he believes this has undoubtedly enhanced the standard of local competitors.
"There is no doubt that hosting the European championships has been a help and Belfast will stage them for the third year on the trot next year," he said.
"It would be good if we got the world event again, year after year we have been up there with the best.
"There was only one word for the Field Marshal Montgomery Pipe band's performance at the weekend - outstanding.
"Every Grade One band is top drawer, but when they played they were miles ahead of the game."