Presbyterian Church criticises Order over 'jihad' comment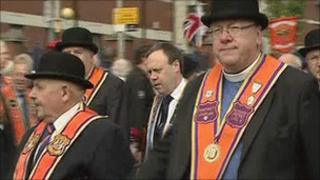 The Presbyterian Church has criticised as "unacceptable" an Orange Order statement in which one of its own ministers was quoted.
In April, the Parades Commission told Orangemen to play only Abide With Me while passing a nationalist area.
Ballymacarrett District Lodge, of which the Reverend Mervyn Gibson is chaplain, accused the commission of waging a "jihad" or holy war against them.
The church has now responded to criticism of those comments.
The lodge's statement at the time said the commission's ruling was "an action worthy of the Taliban religious police" and described the commission members as "Mullahs".
The words were not attributed to Mr Gibson but he was quoted as saying the commission was "fanning the flames of division".
In a highly unusual move the Parades Commission then wrote to the Presbyterian Church claiming the language used was "inappropriate" as well as "intemperate and inflammatory".
Unhelpful
The BBC has learned that the church has now replied, saying references drawn from what they described as the "highly emotive vocabulary of Islamic fundamentalism" could really only be used "with the intention of causing offence."
The letter, which has been seen by the BBC, added: "It is therefore unhelpful and unacceptable. It may also give offence to our Islamic neighbours."
When contacted by the BBC, Mr Gibson said he was not "overly impressed" by the church response adding "they failed to discuss the matter with me when it was about me".
"However, I don't wish to make any further comment."
He also said he had submitted a Freedom of Information request in an attempt to obtain any correspondence or emails from the Parades Commission in which he was mentioned.