Sinn Fein MLA Gerry Kelly tells Al Hutchinson to resign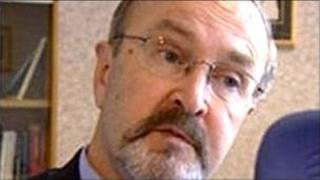 Sinn Fein MLA Gerry Kelly has called on the police ombudsman to resign following the leaking of a report critical of his office's performance.
The draft Criminal Justice Inspectorate (CJI) report, leaked to The Detail website, is the third review this year raising concerns about Al Hutchinson.
Among the new criticisms are claims that Mr Hutchinson has lost the trust of his senior investigators.
Mr Kelly said public confidence in the office was "at rock bottom".
'Deep-seated problems'
"It is important that swift action is taken to restore the credibility of this crucially important policing structure," he added.
He said there were a number of "deep-seated problems" within the office, including the use of former members of the RUC in carrying out investigations.
"The conflict of interest this causes in the office's work on historic collusion cases is very obvious," he added.
The Criminal Justice Inspectorate report also said that allegations of police wrongdoing during the Troubles may not have been fully and properly investigated.
Mr Kelly's comments have been echoed by fellow North Belfast representative, SDLP MLA Alban Maginness.
He said: "If this leaked report is correct then the Ombudsman's position is untenable and, without doubt, he must go."
He added that a recommendation that the ombudsman's office be suspended from investigating historic murders had undermined Mr Hutchinson's authority.
'Weak leadership'
Mr Hutchinson has not commented on the report but has previously defended his office against criticism from other reports.
The report is currently with the Department of Justice ahead of publication.
The Police Ombudsman had requested the report from the CJI assessing the office's independence from the police after two previous investigations were critical of the body.
In June, an independent review of the police ombudsman's office by the chair of the Community Relations Council said Mr Hutchinson's "weak leadership" undermined the effectiveness of the body.
The DUP chair of the justice committee at Stormont, Paul Givan, said he had not ruled out a special meeting to discuss the findings of the report.
However, he also urged caution in reacting to its findings.