Edwin Poots says too many people abuse the A&E system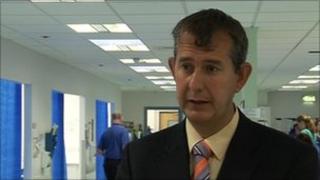 The health minister has said too many people in Northern Ireland abuse the accident and emergency system.
Speaking on Good Morning Ulster, Edwin Poots defended the proposals to temporarily close A&E services at the City Hospital.
In response to criticism that the move will put services under severe pressure, he said some people were using it as a substitute for their GP.
Emergency department hours at Lagan Valley Hospital were recently reduced.
Mr Poots said the public could play their part in helping to ease the burden on emergency departments.
"My main concern when people come into an emergency department is that people who need care are seen quickly, so someone who has a heart attack, stroke or major trauma, I feel they should receive care, not in four hours, but immediately," he said.
"If someone is waiting with a bit of gravel in their eyes and it is something they could have seen their GP about and they happen to be waiting a very long period of time, perhaps they didn't need to be there in the first instance.
"I think that people do need to reflect on their use of emergency departments in hospitals.
'Time wasters'
"They are not here as a back-up to GP practices and people should not abuse the A&E system.
"We have always had time-wasters coming to A&E.
"That is increasing and people need to reflect upon that and not be overloading a service which is here to save people's lives."
Mr Poots acknowledged that with autumn approaching and the seasonal rise in hospital admissions that are typical at that time, it was not the best time of year for the changes to be implemented.
"Ideally we would wait till spring," he said.
"Given the staff cover, given the number of junior doctors, doctors at registrar and consultant grade, we cannot afford to wait this year."
In recent months changes have been made to the emergency department at the Lagan Valley Hospital and proposed changes are planned at the City Hospital.
In July the South Eastern Health Trust announced a reduction in opening hours at Lagan Valley Hospital's A&E department in Lisburn, which came into effect at the beginning of August.
The trust blamed the reduction in service on a lack of junior doctors.
Earlier this month, the Belfast Health Trust warned that unless it could fill a number of senior staff vacancies at the City Hospital that it would have to close on a temporary basis from the end of September.
Permanent
Mr Poots said he had taken advice from staff at both hospitals: "The doctors indicated that they could not offer a sustainable and safe service and it's also clear that is going to be the case at the City Hospital."
Mr Poots has given a strong indication that accident and emergency services at the City Hospital are likely to close permanently.
He said staff working in the accident and emergency unit at Belfast City Hospital should not be worried about their jobs.
He said if the temporary or permanent closure went ahead, staff would be transferred to the Royal Victoria Hospital to provide additional support for staff already based there.
Looking to the longer term, he said the Belfast Trust was "working towards the position that more elective surgery takes place at the City Hospital and more emergency procedures take place at the Royal".
The reduction of A&E services at Lagan Valley and the possible closure of A&E services at the City Hospital is expected to increase pressure at the Royal and Mater hospitals.
"Ultimately the cover that we have in the three Belfast hospitals: the Mater, Royal and City, we have only enough to run probably one and a half centres well, so ultimately we do have to make a significant decision here," he said.
"Do we spread our resources very thinly across three sites or do we bring the staff onto two sites?
"Ultimately it is a better decision to have the specialism on less sites and ensure we have proper consultants and staff.
"The staff at the City Hospital will be transferred to the Royal, some to the Ulster Hospital."
He said the Ulster Hospital was making preparations for additional attendances at A&E there.