Fake wristbands and passes seized at Ulster Grand Prix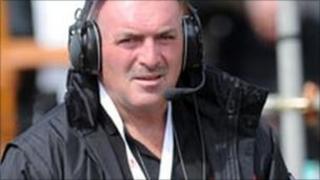 Fake entry wristbands and passes have been seized at the Ulster Grand Prix.
This year, the admission charge for the event increased by £10 to £25 as organisers dealt with a "serious financial shortfall".
Even with outside funding, the road race meeting last year cost the Dundrod and District Motorcyle Club £409,000.
Clerk of the course, Noel Johnston, has criticised those responsible for the fake passes.
He said the event "lived from year to year" and such practices did not help the organisers' cause.
"There were people with fake passes trying to enter the Ulster Grand Prix on Saturday and there were people with fake entry wrist bands as well," Mr Johnston said.
"The wristbands were made of cardboard and covered in plastic.
"We don't know how many of them there were, it could be the tip of the iceberg.
"It is a problem we need to address for next year.
"It is the society we live in. It is not just the people getting in for free, it is the people making money off the back of it."
The Dundrod Club previously said they had found it necessary to increase the admission charge to £25 to "break even". The fee covers the week's racing.
They said many spectators had avoided paying the admission charge of £15 at last year's event.