Copper pipes are hot property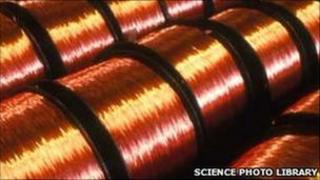 An unlikely new market in the economic downturn, brazen theft or opportunist recycling.
The copper pipe has started to make the news for all the wrong reasons as scrap metal prices soar.
Thefts of pipes and tanks from vacant houses have become regular news over the last year. Copper wiring is also being stolen across Northern Ireland and the rest of the UK.
The metal is then sold on to the sort of scrap metal dealer who does not care where it came from.
In the last month alone, a forklift was used to steal a copper boiler tank from the Royal Victoria Hospital in Belfast and, in a separate incident, four men were arrested at Carn Industrial Estate in Portadown as part of a planned police operation against the theft of copper.
And now one of the biggest targets of the copper thieves has announced a scheme to stop the costly robberies.
Fluorescent stickers
Housing Executive homes left vacant between tenants have proved to be one of the most popular targets for thieves looking for scrap metal.
In north Belfast the Housing Executive are removing all valuable metals from vacant properties and putting fluorescent stickers on the homes making that point clear to any potential thieves.
And it is not just large organisations that have had to take action to ward off robberies of their properties. Private developers are doing the same.
One woman, whose property under renovation was broken into three weeks ago, told Good Morning Ulster about the steps she has taken to prevent any further thefts. She did not want her name used.
"We had a minor break-in three or four weeks ago at the change-over in the beginning of the construction work," she said.
"There had been thieves around, they may have been aware that there was brand new copper going into the building and we just felt it was important to take our own steps to make sure the property was secured 24 hours a day and we went ahead and did that.
"We had the misfortune of having to re-plumb the building in order to meet a regulation. We understood through the salvage process the value of copper and scrap metal.
"That, and the fact there was a theft, we felt that the people that broke in would have understood that value and we decided to have security there 24 hours a day."
In north Belfast copper theft has been a big problem, and Malachy McKinney from the Housing Executive believes that, while proving time-consuming and costly, the removal of pipes from empty homes will save money.
"It is ridiculous. There's two costs to this - there is the cost to ourselves in taking the pipework out and putting it back in, or repairing the damage which vandals cause - sometimes up to £3,000 or £4,000 per property," explained Mr McKinney.
"But the real cost is to prospective tenants wanting to move into properties. People who are vulnerable, in hostel accommodation, waiting for housing and that is delayed significantly while this work has gone on.
"We are clearly marking empty properties with a fluorescent stickers on the front saying all copper piping has been removed.
"These are properties that are vacant pending work before new tenants move in and we are clearly demonstrating that unfortunately we have to go in and remove the copper piping to prevent vandals coming in stealing and causing huge amounts of damage to those properties."
The Housing Executive wants to see the police take a tougher stance against the traders willing to buy stolen copper. Mr McKinney feels coming down on illegal traders will dry up the market for the stolen metal.
"There are issues with unscrupulous scrap dealers who don't question the source of the copper piping. I know the PSNI have been working with reputable scrap dealers saying they must question the source of where copper pipes come from," he said.
"In some of our other pilot schemes we have marked copper pipes, clearly stamped that they were the property of the Housing Executive in an attempt to stop this but there are some unscrupulous dealers out there."