Mephedrone blamed for Larne man Martin Morrow's death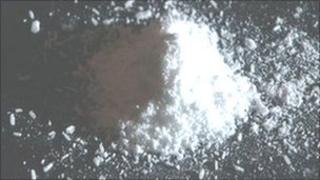 An inquest into the death of a 20-year-old man from Larne has heard he had an exceptionally high level of the drug mephedrone in his body.
Martin Morrow, of Old Glenarm Road, died in April last year. The inquest heard he had spent the weekend partying with friends.
His mother Isobel Morrow said she had lost her son to the first drug he took and had not been able to get him back.
His girlfriend was pregnant at the time and has since had a daughter.
She said mephedrone was readily available and cheap to buy.
Mephedrone became a class B drug in April of last year.
It is sold as a white powder which is usually snorted in a similar way to cocaine.