Nationwide removes adverts referring to PMS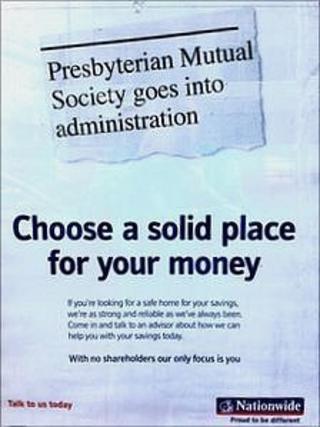 The Nationwide Building Society has now removed adverts from its branches which referred to the financial problems of the Presbyterian Mutual Society.
The advert used the headline "Presbyterian Mutual Society in administration".
It then said "choose a solid place for your money".
Nationwide said the advert was not meant to cause offence, but was to highlight that a building society was a safe place to save.
DUP MP Jeffrey Donaldson said the advert could have been handled "in a more sensitive way".
"The reality is that building societies are safer because they are covered by the government's guarantee scheme," he said.
Tactics
"The one concern I would have is that the advert could perhaps be seen to exploit a commercial advantage.
"In the current financial climate it is dog eat dog so I suppose financial institutions will resort to these tactics."
In a previous statement, the Nationwide Building Society said it understood the PMS "went into administration some time ago" and it "merely wanted to highlight Nationwide as a safe place for savers' deposits" .
"This advert was not meant to cause offence," a spokesman added.
Responding to the advert, the Presbyterian Church said it was "delighted that PMS savers have had most of their money returned to them to invest in whatever 'solid place' their financial advisors suggest."
PMS was placed in administration in November 2008 and affected around 10,000 people.
A rescue package underwritten by the Westminster government and the Northern Ireland Executive was agreed in May.
It allowed for smaller savers, who invested less than £20,000 with the PMS, to get all of their money back.
Larger investors would receive 85% now with the remaining 15% dependent on the disposal of PMS properties and other assets.