Belfast man in Fastnet yacht race rescue drama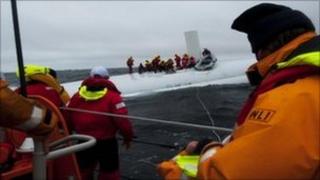 A Belfast man has described how he helped rescue five crew members after their yacht capsized off county Cork in the Fastnet Race.
The Rambler 100 overturned off the Cork coast just after 18:30 BST on Monday.
Sixteen crew members, who were huddling together on the upturned hull of the vessel, were rescued by the RNLI.
Geoff Kirkpatrick was on a dive boat which answered the distress call from another five crew members in the water.
One of the five, a woman, was airlifted to hospital in County Kerry.
The race began from the Isle of Wight on Sunday with 314 yachts taking part.
The US-registered vessel is understood to have capsized between the Fastnet Rock and the Pantaenius Buoy, about 12 miles from Baltimore.
Several of the crew had been asleep at the time and had to fight their way out from under the upturned boat.
The Baltimore RNLI lifeboat spotted the upturned yacht with 16 members on the hull.
The other five crew members were found in the water by the Baltimore deputy mechanic Jerry Smith who took out his dive boat to join the search.
Mr Kirkpatrick, who was on board the dive boat, said the group had been clinging to each other in the water for several hours.
"At first we thought there was only one person in the water," he said.
"It was actually five people who had tied themselves together so we got up alongside them and thew a rope over.
"There was one lady in the group was in a poor state.
"We were on a diving boat so we were able to lower the back of the boat and get people on board."
The biennial race, organised by the Royal Ocean Racing Club, runs for 608 miles along the south coast of the UK, across to the Fastnet Rock off the south-west Irish coast.
It then returns around the Scilly Isles to the finish in Plymouth.
In 1979, 15 people died in the race when yachts were buffeted by treacherous conditions including strong winds and rough seas.