Ardoyne riots: 'Drunken foot soldier' given bail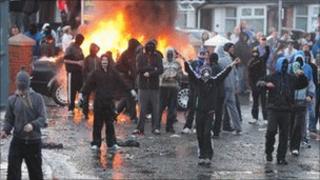 A man alleged to be a "drunken foot soldier" during trouble in north Belfast last month has been told to stay away from the Ardoyne area.
Stephen McLarnon, 25, of Cuchulainn House in Victoria Parade in Belfast is facing a charge of riotous assembly.
Belfast Magistrates Court heard that he was seen throwing stones and dancing in front of a water cannon.
He was granted despite objections from a police constable who said he was a re-offending risk.
The officer said McLarnon had made admissions but did not believe he had done anything wrong.
Defence barrister Michael Boyd stressed that his client did not have any influential role in the trouble.
He said: "This man isn't alleged to be any sort of ringleader. He's a drunken foot soldier."
But the police officer replied that Mr McClarnon claimed to have drunk three bottles of beer and fully recollected events.
Mr Boyd disputed claims that the accused had not acknowledged any wrongdoing.
"Plenty of people deny it's them on CCTV. He has fully admitted it was him," the lawyer said.
Curfew
"He knows fine rightly he has done something wrong."
District Judge Fiona Bagnall agreed to grant bail but imposed a curfew and ordered Mr McLarnon to be electronically tagged.
He was also banned from Ardoyne Road or going within 200 metres of Ardoyne shops.
The judge further banned him from being within half a mile of any parades.
Meanwhile, a 19-year-old man accused in connection with the same rioting was remanded in custody.
Brendan McCann, of Herbert Street, Belfast, faces charges of riotous assembly, possession of a petrol bomb and throwing a petrol bomb.
A defence solicitor told the court he was not seeking bail at this stage.
Mr McCann was remanded in custody to appear again by video-link next month.