Belfast city centre bus stops to change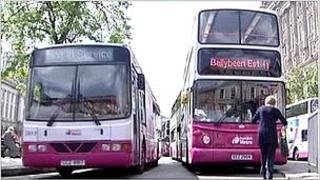 There will be changes to some bus services and stops in Belfast from 1 September.
It is part of the Department of Regional Development's Belfast on the Move Initiative - which aims to reduce the amount of traffic on the roads.
The work includes changes to traffic flows in Queen Street, Castle Street and Upper Queen Street.
These will aim to provide more space for public transport, pedestrians and cyclists.
The changes will see some Metro bus stops relocated, with some alterations to some routes.
All stops in Donegall Square West will be changed with buses operating to north Belfast departing from Upper Queen Street.
A number of routes which currently depart from Upper Queen Street to west Belfast will now depart from Queen Street.
There will also be adjustments to the locations of bus stops on Chichester Street and Wellington Place for some services operating to the west, east and south of the city.
Metro Services Area Manager Billy Gilpin said: "Information on these changes is now available with new timetables being posted to Belfast households this week.
"We will also have customer information teams on hand in the city centre from the end of next week to help passengers with finding their new bus stops."
Regional Development Minister Danny Kennedy said: "This is the first step in delivering a city centre where access by public transport is given a much higher priority and the street environment is tailored to the needs of pedestrians and cyclists rather than the private car."
Social Development Minister Nelson McCausland added: "Belfast city centre is going through a major transformation to make it a more pleasant, accessible and safe place for pedestrians and cyclists.