Unison and Nipsa to ballot members on strike action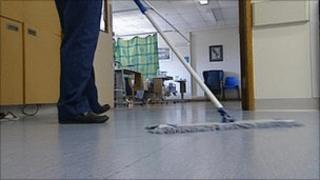 Two trade unions are to ballot members on whether to take strike action.
Unison said its members were working "under impossible conditions" and they would hold a vote on strike action between 20 August and 22 September.
Nipsa said it intended to ballot for industrial action after Education Minister John O'Dowd was unable to give assurances that no jobs would be lost.
The union has predicted that up to 1,000 job in education would be lost because of budget cuts.
Unison regional secretary Patricia McKeown said employers' actions on budget cuts over the past three years "had led to a number of grievances, including redundancies and pay freezes".
Block grant reduction
Stormont's annual spending has been set for the next four years to be £1.35bn less than this year's budget
It has said it has been forced to do so because of a reduction in the block grant from Westminster.
Health is particularly badly hit with senior officials indicating that their budget up until 2015 is £800m less than they need to be able to run the service efficiently.
Unison said that as well as the threat of job losses in education, other areas facing cuts include school meals, transport and crossing patrols.
Meanwhile, the public service union Nipsa said the education minister had described the situation as "bleak in the short term".
Nipsa has called on John O' Dowd to protect school education and said he should be doing more to provide a sufficient budget to deliver education to young people.
The union intends to ballot for industrial action in the autumn.