Ex-bricklayer Paddy builds new future as chef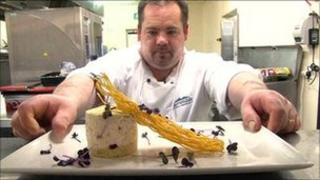 Crab meat, prawn, creme fraiche, lemon juice, zest and curry cream are the raw materials chef Paddy McAuley uses for a fine dining starter at the Burrendale Hotel in Newcastle.
But for 20 years the only ingredients he used were sand and cement and bricks.
That's because he used to be a bricklayer.
He earned what he describes as excellent money all through the boom years, but then building collapsed.
Work became scarce and Paddy was forced to consider a permanent change of career.
"Nobody was building and any work you could get, the prices were that bad, you were working for nothing," Paddy remembers.
"It got to the stage where in six weeks you maybe got two weeks work and basically it didn't pay the bills."
He spent a year applying for jobs and got nowhere until he was offered a job as a dishwasher at the Burrendale on the minimum wage.
"It was out of desperation. I needed something," he said.
Making starters
"It was an experience, up to your neck and ears on a Saturday in pots and pans."
After a year he was promoted to prep chef, preparing vegetables for weddings and now makes starters.
"I'm enjoying it. Not all the time because it can be a stressful job.
"At least I know now when I come to work, I am not going to be rained off or sent home. I know when I come through those doors I am getting a shift.
"I've been back to school and did a level two course in professional cookery. I was very apprehensive about going back to college sitting in a class with 16 and 17-year-olds, but I enjoyed it very much."
For the 39-year-old, it was like night and day going from bricklaying to cookery, but he had always had an interest in food and had wanted to be a chef when he left school.
His boss, Paddy Boyle, recalls the time he gave the ex-brickie dishwasher a six-week trial as a trainee chef.
"Paddy took to it like a duck to water. He loves it. We like him. He's good," he says.
'Extremely difficult'
"He is always here on time and you can depend on him. He is married, he has a mortgage, he has kids. He knows he has to come to work."
But is Paddy the ex-bricklayer an exception? His boss explains that it is extremely difficult to recruit and retain local staff.
"A lot of them you cannot depend on. They say yes, we want to do this.
"They stay for two or three weeks, they get paid on a Thursday and they go off on the beer on the Friday and they leave you without chefs at the weekend.
"We have three Indians that we had to fly in from India through an agency. We have two Polish guys and a Lithuanian guy."
There are currently six chef vacancies to fill.
To meet the demand, the hotel is building its own training kitchen designed to attract school leavers.
Meanwhile ex-brickie McAuley is happy at his work.
For him, half a loaf is better than no bread. He plans to continue in catering and is aiming for more cookery qualifications.
He may never build a wall again, but his trowel skills will come in handy any time he has to ice a cake.