Father's fears for disabled daughter after unexplained bruises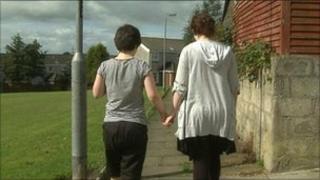 The father of a seriously disabled girl has said he hopes she dies before him and avoids having to go back into respite care.
Katie, who is now 15, was taken out of respite care after unexplained bruising was found on her thigh.
Her father Dermod has spent more than five years trying to get answers from social services but has still not found out what happened to his daughter.
A social services investigation was inconclusive.
Katy's story was uncovered by the news investigation website The Detail.
Dermod, who for legal reasons cannot be fully identified, said his daughter is "profoundly and multiply learning disabled".
"She is totally reliant on her parents and any other carers for all her needs, from feeding, to cleaning and back again," he said.
Bruises
He and wife were shocked when they found marks on her body five years ago.
"She came back from her last spell of respite care with a bruise mark on the inner thigh of her left leg and much fainter marks on the outer thigh of the same leg, which suggested hand grasp to me, so we took her up to the local hospital," he said.
"She was examined by the consultant, who confirmed my assessment that these marks were suspicious and then reported them to social services."
An investigation was carried out by social services.
Dermod and his wife were told by the investigating team that the cause of the bruises would remain unknown, but it was possible that they could have occurred at school.
"Its conclusion was inconclusive which was very much what we would have expected, but we didn't get a great deal of access to any of the material in which they worked," he added.
Katy's father eventually put in an application to see his daughter's file.
He got access to it a year later.
"I discovered that the bruise marks had been noted when she went into respite provision and that there had been a clear note put on that bruise chart to notify us and a clear note on a later bruise chart about some other marks on her to notify us and we never were.
No explanation
"I think the thing you have to understand about the learning disabled is they can't tell you what happened."
He has had no official explanation as to how his daughter came to have the bruises.
"Nobody admits what happens or what happened, 'well it's possible this happened or it's possible that happened or it could have happened here or it could have happened there'," he said.
"What grieves me about the whole thing is they did nothing to involve us, they didn't notify us at the time."
Despite not knowing, Dermod has his own views on what happened.
"I think somebody used a bit of force on her, on her leg," he said.
His daughter has not been back in respite care since the incident five years ago.
Dermod said it had been "exceedingly difficult" caring full-time for their daughter.
"We've had barely a break over those years. We have been away once for a long weekend in those years."
He said he and his wife would not consider putting their daughter back into respite care unless they could find a place that was "accountable to us, not accountable to the trust, not accountable to the staff".
One of his greatest fears is over his daughter's future.
Welfare
"When we are no longer there or able care for her, she will have to go into permanent care and that is our greatest worry," he said.
"There is deep wish that she goes before we do because you know that nobody is going to look after her as well as we do."
Investigating the potential abuse of vulnerable adults in Northern Ireland is overseen by three separate bodies - the health trusts, the Regulation and Quality Improvement Authority (RQIA) and the PSNI.
Responsibility for child protection falls to the department of health and the five health and social care trusts who are individually responsible for providing residential care services to children and young people within their areas.
Figures obtained by The Detail show that there were 1,271 child protection referrals for the quarter ending 31 March 2011, which was almost 20% higher compared with both the previous quarter and the same quarter in 2010.