Police operation targets metal thefts in Londonderry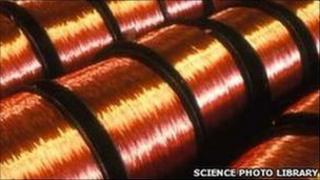 Five people arrested in Londonderry during a police operation targeting metal thieves have been released on bail.
They were arrested on suspicion of stealing metal, including copper and lead.
A number of properties were also searched as part of Operation Kivu. Lead and manhole covers were also recovered.
Ch Insp Jon Burrows said metal thefts were not victimless crimes.
"The properties being targeted by these callous thieves belong to the most vulnerable people in our communities," he said.
"Pensioner bungalows, in particular, are susceptible to opportunistic criminals and older people are often repeat victims.
Action
"Schools, cemeteries and churches have all been targeted in the last number of months, meaning money is being spent on repairs instead of education and improving communities."
Ch Insp Burrows said police were working closely with other agencies, in particular the Northern Ireland Housing Executive, to tackle metal thefts "head-on" and provide reassurance to the public that steps were being taken to protect homes and other property.
Eddie Doherty, NIHE district manager in Derry, said they had spent around £8,000 over the last six months replacing lead flashing in the cityside area.
"One of the short-term preventative measures we are putting in place is using anti-vandal paint on the lead flashing to deter criminals," he said.
"The paint will stick to your hands and clothes and is difficult to remove. What we really need is for residents to be vigilant and to report suspicious activity right away."
Police have said that the public should expect similar operations in the future and have re-issued advice to scrap dealers about not accepting metals from suspicious sources.
Meanwhile police are investigating the theft of scaffolding and steel in Belleeks, County Armagh.
Scaffolding poles and constructional steel in 3.6m lengths was taken from a site on the Carrickananny Road, between 16:50 BST on Tuesday and 07:30 BST on Wednesday.