NI A-level pupils outperform England and Wales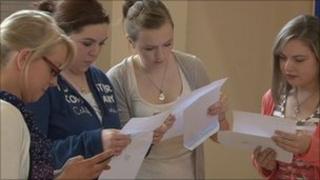 Northern Ireland A-level students have once again outperformed those in England and Wales.
The overall pass rate - those with grades A* to E - was the same as last year at 98.1%.
But the number of A* grades, which were introduced for the first time in 2010, did fall slightly from last year, down to 8.6% of those taking the exams.
More than 23,000 Northern Ireland students received their results on Thursday.
The exam body, CCEA, said that there had been more than 17,600 visits to their online results service before 09:00 BST.
It is thought the rise in tuition fees in 2012 has led to an increased number of people applying to university this year.
Last month the first and deputy first ministers said there would be no "large increases" in fees for students starting courses in Northern Ireland in 2012.
Universities have said their admission phone lines are extremely busy and the University of Ulster has asked callers to be patient as they try to keep up with the volume of calls.
The Education Minister John O'Dowd met pupils at the Boys' Model School and St Joseph's College in Belfast on Thursday morning.
He congratulated those who achieved the results they needed for their next step but reminded less successful students that there are still plenty of options.
"Some of you will not get the results you were hoping for today and I would urge you not to worry," said Mr O'Dowd.
"There are so many options open to you, whether you want to continue pursuing your career of choice, or maybe rethink your plans and try something totally new.
"This is an important and exciting time in your life and I would like to wish all those receiving their results today every success in the future."
The employment and learning minister, who has responsibility for further and higher education, also congratulated students on their results.
"It is heartening to see so many of our young people achieving the grades they need for their chosen pathways and they deserve our congratulations," said Stephen Farry.
"Sometimes results can mean a change of plan. We want to let students know that there are still many possibilities and choices available, whether you have done better than expected or not as well as you had hoped.
"Whatever your results, it is vitally important to check out your options, for there are options available."
Tuition fees
A lack of certainty surrounding tuition fees in Northern Ireland has posed problems for educators.
Tony Gallagher, the pro vice chancellor of Queens', said the majority of their 3,700 spaces would go to people who had chosen the university as their first preference.
About 100 would be available through the clearing system.
Mr Gallagher said there was particular pressure in England where fees are set to go up considerably.
"Northern Ireland is the only place that hasn't yet made decisions about what we're going to do next year and I think it's unfortunate the executive hasn't done that," he said.
"Ordinarily we would be able to provide a lot of advice about doing resits, taking a gap year. This year we can't be so clear in that advice and I think it's a pity."
Audrey Stewart from the Ulster Teachers' Union said there was enormous pressure for young people to do well.
"But university is not the only route," she said.
"Other avenues must be explored. Seek advice from your careers teachers, see what is on offer at further education level."