Belfast on-street parking up 20p an hour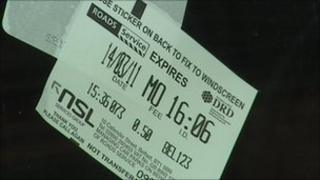 On-street car parking charges in Belfast have risen by 20p, to £1.20 an hour
The cost of using a Department for Regional Development car park has also gone up by 10p per hour.
This rise is being rolled out across Northern Ireland over the next month.
In a statement, the department said it was the first increase to on and off street parking charges in Belfast since 2004.
Transport Minister Danny Kennedy said that he understood people's concerns about the rises, but they were unavoidable.
"Any increase is regrettable and I understand the certain amount of pain and concern that it brings.
"But I think when we compare car parking charges in Belfast to even private operators' charges, I think our charges are still reasonably in line," he said.
"It's been a number of years since an increase, unfortunately we now find that to be competitive we have to increase them to the current level.
"It may well be that a more graduated increase approach would have been more sensible, but that's the situation that I, as a newly installed minister, find myself in."
Mr Kennedy said he would be in a position to report to the assembly in September on proposed increases to parking charges in 30 other towns and cities across Northern Ireland.
The Northern Ireland Independent Retail Trade Association described the increase in parking charges as excessive.
It said it was "simply too much given the pressure on shoppers and hard pressed working families".