Strabane farmer Christopher Roulston died in bales fall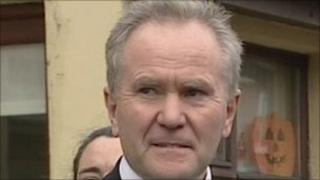 An inquest has heard a County Tyrone farmer died form head injuries after he fell 2.6 metres from the top of bales of hay in a shed in his Strabane farm.
Christopher Irwin Roulston, 59, fell head-first from the hay at his farm on the Moneycannon Road on 7 March.
He suffered bruising and a laceration to the brain and other skull lacerations in the fall.
Returning a verdict of accidental death, Coroner John Leckey described the incident as tragic.
Mr Leckey was told it was normal practice for Mr Roulston to climb up a ladder on top of the bales of hay and rock them to the ground. Each bale weighed 350kg.
Brian Pryce, of the Health and Safety Executive, said machinery was available to farmers to pull down bales of hay, but it many cases it was too expensive for them to buy.
Mr Roulston's wife Kathleen said she found her husband lying in a pool of blood in the farmyard after she returned home.
She said she touched her husband's face and it was cold. She said she alerted a neighbour who then called the emergency services.
Mrs Roulston said she hoped the farming community would learn from the tragic circumstances of her husband's death.