Northern Ireland graduate bags Disney design prize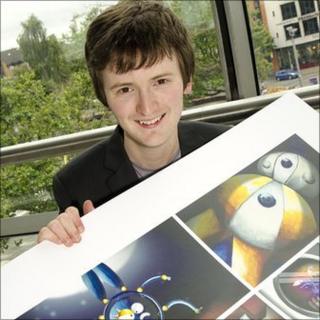 A Northern Ireland graduate has bagged a contract with the Walt Disney Company after winning a worldwide design competition backed by the media conglomerate.
Jonathan McKee impressed judges at the 2011 D&AD (Design and Art Direction) competition with his animation, The Dreamcatcher, which was inspired by a visit to China last year.
The 23-year-old from Dundonald has now been contracted to work on animated character designs for forthcoming TV shows.
Jonathan recently graduated from the University of Ulster with a first class honours degree in Design for Visual Communication.
He said he was "overwhelmed" to gain top prize in the competition's student animation category.
"The Walt Disney Company, in association with D&AD, asked students to create a 60-second animation incorporating a lead character which embodied the themes of hope and optimism," he said.
"This character had to be of a unique design and appealing to children aged between four and 14-years-old.
"During a visit to China last year, I heard the story of a make-believe ghost called Baku which children called upon to destroy their nightmares when they became frightened at night. That inspired The Dreamcatcher.
"The animation was entirely hand-drawn and hand-painted, depicting a battle between Baku and one of these nightmares, as it breaks into his owner's home intent on eating the children's dreams - but Baku has a clever plan to stop it."
'Boot camp'
Jonathan collected his award from Orion Ross, the vice-president - Original Series of Disney Channels EMEA during a ceremony in London.
"As we were walking off stage he asked me to give him a call during the summer if I was free to do some work and I jumped at the chance," Jonathan added.
"I contacted him and now have a contract to work on animated character designs for forthcoming Disney TV shows  - but I can't give away any details!
"The company is based in London but we have regular video conferences."
Jonathan said he sent over drawings to Disney who returned them "with any changes and refinements".
"Feedback has been really positive and I hope to further strengthen my skills during a five-day boot camp at the D&AD graduate academy which I'll be attending at the end of the month," he added.
"That could open up a whole new world of opportunities as it's a chance to be spotted by some of the most influential names in the industry."