Mark McGovern incident: US GAA player gets 96-week ban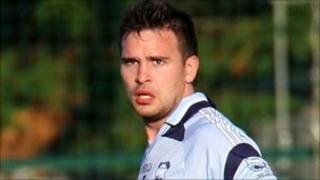 A man accused of being involved in an off-the-ball incident which left Fermanagh GAA player Mark McGovern in a coma has been given a 96-week ban.
Patrick Power was given the suspension by the San Francisco GAA Competition Control Committee.
Mr McGovern, from Belcoo, was playing for Ulster San Francisco when he was injured during the game with San Francisco Celts in June.
He spent more than a month in a coma before waking.
San Francisco GAA Competition Control Committee chair Eamonn Gormley said Mr Power had received the maximum penalty allowed "under the rule that the player was deemed to have violated".
"We are satisfied with the investigation, both clubs gave it their full cooperation, and the outcome was a fair one," he said.
Mr McGovern's parents and three sisters maintained a vigil at his hospital bedside during the five-week period he was in a coma.
It is understood he is continuing his recovery at an acute rehabilitation unit in California.
The Mark McGovern Rehabilitation Fundraising Committee was recently formed to raise funds to cover the cost of Mr McGovern's medical expenses in the US.
In a statement released last week by Mr McGovern's family, they said he was "undergoing intense rehab therapies each day".
"He is showing admirable strength and determination, even when asked is he tired, he still pushes on regardless," they said.
"Mark is going through speech therapy, occupational therapy and physiotherapy amongst many more.
"The staff are amazed at how well Mark is coming on and at such a fast pace.
"Mark has came on leaps and bounds, he is now walking with supervision, balances himself better, talking with his voice, remembers short and long term and most of all is smiling again."