Banbridge fuel laundering plant is raided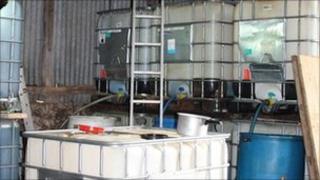 A laundering plant capable of producing more than 2m litres of illicit diesel a year has been raided in County Down.
Customs officers accompanied by the police raided the premises in Banbridge on Tuesday morning.
Six thousand litres of fuel and a vehicle were seized and laundering equipment was dismantled at the site.
A 63-year-old man was arrested and has been released on bail. Customs said their inquiries were continuing.
It is estimated that the plant could have produced 6,000 litres of illegally laundered fuel a day, or 2.19 million litres a year.
This would equate to £1.3m in excise duty evaded per annum.
John Whiting, assistant director of criminal investigation at Customs, said: "Fuel laundering is dangerous in every way - and those involved show complete disregard for anything other than profit.
"There is a risk to other road users from the transport of laundered fuel, as the vehicles used to do so are often unsafe.
"There is also damage to the environment, as the by-products from the laundering process can cause devastation and leave the public with a hefty clean-up bill.
"Illicit fuel also damages engines and undercuts honest businesses."