Golf club fraud accused Gavin Chism refused bail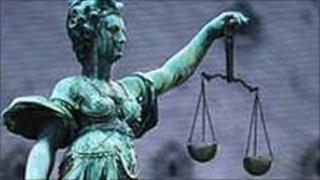 An alleged fraudster accused of trying to scam three different golf clubs must stay in custody to protect the public, NI's most senior judge has ruled.
Lord Chief Justice Sir Declan Morgan refused bail to Gavin Chism after being told he used chequebook and card deception to try to buy equipment.
The 27-year-old baker, of Garvaghy Park, Portadown, is accused of targeting three golf clubs in June and July.
He denies the charges.
Mr Chism is charged with three counts each of fraud by false representation and possession of an article for use in fraud.
The High Court was told that the alleged offences were committed while he was out on bail for 35 other counts of chequebook fraud.
A Crown lawyer said Mr Chism was arrested on 26 July after failed attempts to make purchases from Royal County Down and Kilkeel golf clubs on the same day.
Police found a list containing details of premises and golf equipment in his car, according to the prosecution.
As part of the investigation he was also charged over the use of a chequebook from a closed business account to buy more than £500 worth of goods from a golf centre in Lisburn a month previously.
Barry Gibson, defending, said Mr Chism came to have the chequebook and card of a friend "innocently" when it was left in his car.
Mr Gibson added that his client completely disputed the allegations against him.
But refusing bail, Sir Declan said: "I have to make a judgment on the entitlement of him to his liberty against the public having to be protected from this type of behaviour when there is evidence that it is going to be repeated and hard-working people are going to lose out."
The judge ruled that the balance had to be in favour of public protection.