Chief Constable Matt Baggott warned by media over riot footage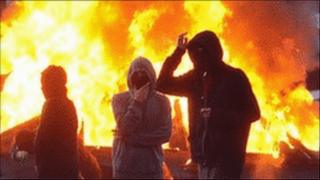 The chief constable has been warned more demands from police for media riot footage could endanger journalists.
It follows a court ruling that media groups including the BBC must hand over images of the recent riots in Belfast.
A letter written on behalf of seven media outlets said such actions damage the press's impartial reputation.
It added there is a real fear rioters would target the media if they believe they are evidence gatherers for the state - even if it is involuntary.
The letter, sent to Matt Baggott from BBC Northern Ireland, UTV, the Press Association, Sky News, the Irish News, the Belfast Telegraph and News Letter, asked that the police would "first review and endeavour to rely upon its own material in evidence before resorting to an application to obtain material gathered by the media for news purposes".
A PSNI spokesman said it had received the letter and was studying its contents.