Owner of stabbed horse threatened with knife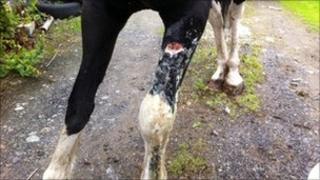 The owner of a horse that was attacked with a knife in Londonderry was threatened by the gang that carried out the attack.
Adrian Lyle's five-year-old mare Patch, sustained a deep cut to its left front leg In Steelstown on Friday evening.
He said when he found the animal blood was "squirting out of her".
He said a crowd of 10 to 12 young people were standing nearby and when he confronted them, one holding a knife threatened him.
Mr Lyle then led his horse away.
Local vet Damien Owens, who is treating Patch, said the wound was very badly infected.
"I don't know if the horse will be much use after this," he said.
"We can't stitch it, so have to treat it with antibiotics and clean it out. The problem is, this time of year flies are going to keep reinfecting the wound.
"It's going to take quite a while for it to heal, if ever."
Survival
Mr Lyle said before the attack Patch had been very quiet, but now she was "very nervous if she sees a stranger coming".
"She's in that much pain she won't let you near her. It's a deep cut, the vet couldn't stitch it up," he said.
"They came with the intention to do it, it was in their mind."
Mr Owens said the horse would survive.
"Whether the wound will fully heal - I couldn't guarantee it," he said.
"But it's going to be a long protracted healing period."
The vet added that he was seeing more cases of cruelty against animals.
"I haven't seen that many horses, but we do see quite a few dogs in this area that have been mistreated," he said.
"I think in my experience, in nearly 40 years in practice, cruelty is becoming more and more common."
Mr Lyle said the vet had done his best and given the mare pain relief.