Gerry McGinn appointed managing director of First Trust Bank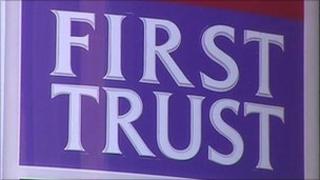 Gerry McGinn has been appointed managing director of First Trust Bank.
First Trust is Allied Irish Banks brand in Northern Ireland and is considered one of the 'big four' banks in its market.
Mr McGinn, who is from Carrickfergus, had been running the nationalised Irish Nationwide Building Society (INBS) since 2009.
INBS effectively ceased to exist last moth when it was merged with Anglo Irish Bank.
The merged entity, the Irish Banking Resolution Corporation, is a vehicle for running down Anglo and INBS which were the two most toxic lenders in Ireland's banking crisis.
Mr McGinn is one of Northern Ireland's most experienced corporate managers.
Banking crisis
He has been a senior executive at Bank of Ireland and Goodbody Stockbrokers as well as a Permanent Secretary in the Northern Ireland Civil Service.
First Trust's future has been uncertain in recent years as its parent company has been at the centre of the Irish banking crisis.
AIB was effectively nationalised by the Irish government after it collapsed under the weight of bad property loans.
First Trust was put up for sale but a buyer could not be found.
Last year a First Trust executive told a Stormont committee that the bank was not trying to recruit new business customers.
More job losses at AIB and First Trust are likely in the coming months.