Staff at TJ Hughes in Belfast lose jobs as store closes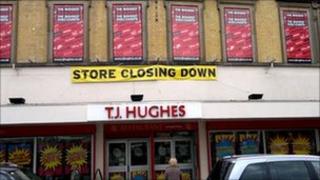 More than 60 staff are to lose their jobs at the TJ Hughes department store in north Belfast.
The cut price retailer is closing its store in the Cityside Retail Park this weekend.
The administrators said 64 staff worked at the Belfast store. It is one of one 54 branches which are closing or have closed.
The Liverpool-based group called in administrators Ernst and Young in June.
The move followed a difficult period of trading.
GA Europe bought the chain's £10m debt and is overseeing clearance sales at the stores across the country.
Glyn Roberts from the Northern Ireland Independent Retail Trade Association said it had been a "very bad week" for retail in Northern Ireland.
"We have lost this store, we have lost the Bookshop at Queens," he said.
'Rock bottom'
"It is symptomatic of the fact that people are not spending in the same way as they were.
"Consumer confidence is at rock bottom. I think unless we address some of the core problems, we're going to see a lot more stores like this, closing their doors over the next few months."
Mr Roberts said one way the Executive and the assembly could help businesses was to address the problem of rates, particularly for small, independent traders.
"That is the big issue for them at this stage, currently there is a consultation underway to extend the small business rates relief scheme, that is absolutely essential that the Executive make a priority of putting this through," he said.
"We also need to look at other costs, such as energy.
"If we have a situation where domestic energy or electricity costs go up by 20%, that's further going to hit disposable incomes."
The discount department store announced it was opening its first store in Belfast in March 2010.
At the time TJ Hughes said it would be investing £1.6m to create more than 150 full and part-time jobs.
TJ Hughes opened its first store in Liverpool in 1912.
The company is the latest UK-wide chain to be hit by the squeeze on consumer spending.
There have been some big name casualties on the High Street in recent years.
Woolworths, and more recently Habitat, are just some of the household names that have gone under.