Mark Durkan steers clear of SDLP leadership row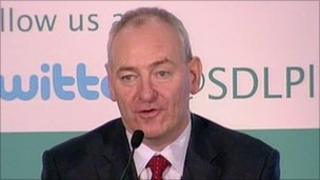 The SDLP MP for Foyle has refused to discuss the leadership challenge in his party.
Mark Durkan told the BBC he did not want to speak about Patsy McGlone's decision to challenge the party leadership of Margaret Ritchie.
Alex Attwood is so far the only high ranking SDLP MLA to unequivocally back the leadership of Ms Ritchie.
Ms Ritchie became leader in 2010, beating the only other candidate, MP Alasdair McDonnell, by 35 votes.
Her critics have blamed Ms Ritchie's style of leadership and media performances for the party's poor assembly election results in May.
Mr McGlone confirmed he would challenge the SDLP leader at the beginning of August. He said he had been encouraged to do by friends and colleagues.
But Mr Durkan would not be drawn on the future of the leadership of his party.
"I am not commenting on any questions about internal party matters," he said.
"I will talk to colleagues about internal party matters, I am not responding to the media, I am not responding to journalists - on the record, off the record - to bloggers, or anyone else.
"I respect our own internal party structures and I am not going to be baited by anyone from the media into jumping onto any sort of hook in any sort of way.
"I haven't talked to colleagues, I will talk to colleagues."
Ms Ritchie has made clear she would contest any leadership challenge at the party's annual conference which takes place in November.