Prison terms for wildlife crimes brought in by Attwood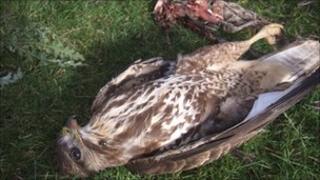 For the first time people committing crimes against wildlife in Northern Ireland will face prison sentences.
The most serious offenders can face a maximum of six months in prison, in changes brought in by Environment Minister Alex Attwood.
Mr Attwood has also doubled fines, with a new maximum of £5,000.
Among the crimes covered by the new sentences are illegally collecting eggs of rare birds, poisoning birds of prey and badger baiting.
The minister has made the changes through the Wildlife and Natural Environment Act 2011 which has just come into effect.
The act extends protection to a wider range of wildlife including the basking shark, sea horse, puffin, red kite and cuckoo and also covers some plants.
The higher level of protection for the animals and birds covered means there should be no circumstances in which they can be killed or injured.
Mr Attwood said: "There is a clear message today - those committing wildlife crimes will be pursued and prosecuted.
"DoE is about making Northern Ireland a better place to live, work and invest in. This act does that.
"For the first time custodial sentences will be an option for the most serious and persistent offenders. This should make people think and think hard about committing wildlife crime."