Disco inferno: Music master Dalton rues London riot fire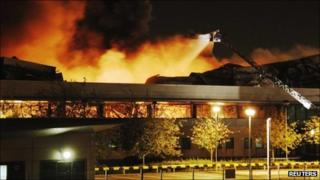 Disco inferno may have been a popular tune on dance floors for more than 30 years, but since the Sony distribution centre went up in flames during the London riots earlier this month it has taken on a new resonance.
Glasgow record label Soma was among more than 150 music firms affected by the blaze in which an estimated 1.5 million CDs were destroyed.
Northern Ireland audio mastering engineer, Conor Dalton, has worked with a range of artists who have been signed to the label including pioneering electronic music duo Daft Punk.
The 25-year-old, who is originally from Antrim, now has his own studio in Glasgow, and said it had been devastating watching the fire in Enfield on television as thousands of Soma's recordings were turned to ashes.
He said it had wiped out around 90% of the company's stock.
"It is where we kept all our physical releases, basically all the vinyl and all the CDs over the past 20 years," he said.
"That is where we stored them, except for a small stock up in Glasgow.
"We lost stuff like vinyl that will never be repressed, so that's the shame, that ourselves and other labels lost a lot of their back catalogue."
Mr Dalton said the house music label was still calculating the financial cost of the blaze and what was covered through insurance.
Legendary producer
However, he said the leading independent music and film distributor Pias had been helpful in getting record companies "back on their feet".
Pias and the Association of Independent Music have announced they are to set up a fund to help labels which have been affected by the fire.
"Soma are lucky, some labels will close," he added.
The former Antrim Grammar pupil joined up with Soma after graduating in music technology at university in Scotland.
He opened up his studio, Glowcast, earlier this year and has recently been mastering tracks for a forthcoming compilation to celebrate Soma Records' 20th anniversary.
This has included work by legendary producer Andrew Weatherall, and Daft Punk who last year provided the score for the science fiction film Tron:Legacy.
"Mastering is the final stage of music production, my job is to make the track sound big, full and clear on any sound system, and to make the music sound sonically warm and 'finished'," he said.
"Late last year, we were looking through the Soma Records cupboards for old photos and music when we found an old tape from Daft Punk, which contained a track that had never been heard by anyone, and never been released.
"The French duo had sent the tape to Soma in the 1990s as a demo, but Soma decided to release "Da Funk" instead, and the track "Drive Unreleased 1994" was shelved until now.
"The track was from 1994, and sounded old and worn, but thankfully the guys liked what I did, and now I can say I have mastered an original, previously unheard track for Daft Punk."