Inventor Colm McMullan promises football app revolution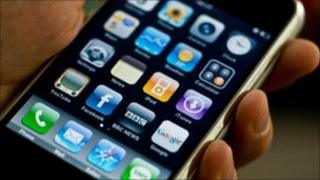 It is being billed as the iPhone App that will change the way you watch football, and the man behind it is very much hoping it does.
Colm McMullan came up with the idea of taking all the statistics that are shown at the end of a football match and putting them into a smartphone app.
People can use it to analyse the data, track every pass, see how a player's influence changes through the game, or compare teams or players statistics.
The idea is that it will resolve those football pub fights, or be the perfect aid to anyone planning a fantasy football team.
The app market is growing fast, with new apps springing up each day promising to revolutionise the way something or other is done. But Mr McMullan has picked his business path very carefully.
Originally from Randalstown, in County Antrim, he left a high-flying job with Microsoft to go it alone and try and turn his bright idea into a reality.
Total Football was launched for the world cup in 2010, but when the company that provides the data - Opta - saw how well the app was selling they decided to get in on the act.
They worked in partnership with Colm and had a follow-up app running for the Champions League last season. Now the big-guns are joining in.
This week the next app has been launched under the banner of football magazine FourFourTwo. It's a three-way partnership between the magazine, Mr McMullan, and Opta, and they all get a split of the revenue.
"FourFourTwo provide the kind of brand recognition and audience marketing that I could only dream of", said Colm.
So while others who develop an app either work hard and try and earn a living from it, or sell it and take their cut and run, Colm has chosen a different business route.
Not only does he receive a development fee, but he still gets a cut of the revenue for his app which is now running under a much bigger logo.
According to Colm, with the right execution, a bright idea really can turn into a big business success within the rapidly developing app market.