Brendan Lillis release compared to Lockerbie bomber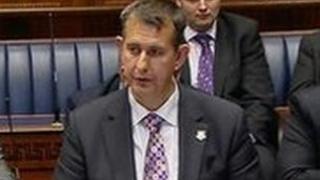 Unionist politicians have severely criticised the decision to release republican prisoner Brendan Lillis.
But Sinn Fein and the SDLP have argued that the decision by the Parole Commissioners amounted to "common sense".
Mr Lillis' family have campaigned for his release for several months as he suffers from a severe form of arthritis.
He is currently receiving treatment at Belfast City Hospital.
DUP MLA Edwin Poots has likened the release of Mr Lillis to that of the Lockerbie bomber Abdelbaset Ali al-Megrahi.
An allegation denied by the Justice Minister David Ford.
Mr Poots said he was "very disappointed in the Parole Commissioners' decision".
"The prison could accommodate the condition he has. There was a physical therapist, there were nursing staff, there were physicians within the prison," said Mr Poots.
"All of that care was being offered to Mr Lillis. If Mr Lillis chose not to take that care, that was a matter for him.
"Are we suggesting that any prisoner who chooses not to receive appropriate medical care in prison should be released on compassionate grounds?
"I think this is a very, very dangerous precedent that that has been set by the Parole Commissioners and I think it could blow back in their face just like the al-Megrahi case did in Scotland."
But Sinn Fein's Paul Maskey, who visited Mr Lillis in jail, disputed that the standard of care in the hospital was sufficient for the prisoner's needs.
"The treatment that Brendan Lillis needed in hospital was not there for him in jail," he said.
"He never refused any treatment. He accepted whatever treatment was given. The hospital in the jail could not even administer a drip when he became dehydrated. He had to be moved to an outside hospital for that.
"This is on humanitarian and compassionate grounds. Had you visited him in jail you would have soon realised this is a sick man. This is a man who needs treatment in the outside world because it cannot be administered inside the jail."
The justice minister said that Mr Lillis could still face trial if his condition significantly improves but Mr Maskey said this was very unlikely in the near future.
"It is quite clear that Brendan Lillis is not going to get well any time soon. He is a sick man, he has been bed ridden for the last two years," he said.
"It is going to take him a massively long time to get over this and I do hope that he makes a full recovery. Then we can look at this decision further down the line."
SDLP MLA Alban Maginness said the decision to release the republican prisoner should have been made some time back.
"The right decision has been made to release Brendan Lillis," said the SDLP justice spokesman.
"Unfortunately this decision should have been made months ago, but ultimately humanity has triumphed over bureaucracy and process."
TUV leader Jim Allister called the release of Mr Lillis "the latest sop to republican prisoners".