Teen in court over murders of NI women in Izmir, Turkey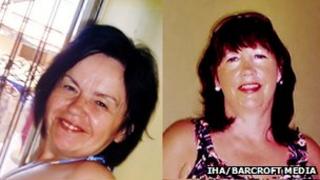 A 17-year-old boy has appeared in court over the murders of two County Down women stabbed to death in Turkey.
Marion Elizabeth Graham and Kathy Dinsmore, both in their 50s and from Newry, were stabbed to death in a wood near the city of Izmir on Thursday.
The boy, known as Recep C, is reported to have confessed to killing them after being refused permission to marry his girlfriend, Ms Graham's daughter.
He appeared at a preliminary hearing in Turkey on Friday evening.
Zeynep Edrim of BBC World said charges are expected to follow.
"He already appeared in front a preliminary court. He is in prison in Izmir," she added.
"The exact charges have not been announced yet, but probably they are going to be ready tomorrow."
A taxi driver and Recep's father are also being questioned by police.
Boat trip
The suspect is alleged to have taken Ms Dinsmore and Ms Graham to a secluded wooded area and murdered them there.
The friends were on holiday in the popular tourist resort of Kusadasi, about 100km from Izmir, with Ms Graham's daughter Shannon.
The teenager was out on a boat trip when the killings happened. She alerted police when she arrived home and could not get in touch with her mother.
Raymond McGuinness, Shannon's father and Ms Graham's ex-partner, said he was preparing to fly to Turkey on Saturday to comfort his daughter and make arrangements for the bodies of the victims to be brought back to Northern Ireland.
Mr McGuinness added that "there was always something that was not quite right" with Shannon's year-long relationship with Recep - a waiter in Kusadasi.
He said he believed reports that Ms Graham had refused to allow the young couple to marry were true.
Mr McGuinness described his former partner as "the life and soul of the party", who "adored Shannon".
Ms Graham's sister Monica Higgins said the family were "absolutely devastated".
Relatives of Ms Dinsmore have also spoken of their pain at the tragedy and paid tribute to the former Newry and Mourne District Council worker.
In a statement her brothers John and George Dinsmore said they were "devastated by the tragic loss of their beloved sister Kathy".
"The family are grateful for the many condolences and appeal for privacy at this difficult time," it added.
'Shock and horror'
The first and deputy first ministers said the were "shocked" by the deaths.
"We particularly remember at this time Shannon Graham, the daughter of Marion, who was with her mother in Turkey," a statement from Peter Robinson and Martin McGuinness said.
"While circumstances surrounding the deaths have yet to fully emerge, we hope that the person or persons responsible will be brought to justice as soon as possible."
The women were travelling on Irish passports and the Department of Foreign Affairs is providing consular assistance to the families.
An Irish diplomat has been dispatched from Ankara to Izmir to liaise with Turkish police.
The murders are another tragedy for Ms Graham's family.
Her half-sister Belinda Hart was shot dead at her home in Newry in 1997. She was three-months pregnant at the time.
Mayor of Newry and Mourne Charlie Casey said there was "shock and horror" within the town.
"They were two popular and well known girls. They were very bubbly and didn't let life get them down," he added.
"They had formed a great relationship over a period of years."