Pair held ahead of Newtownards 'sham wedding'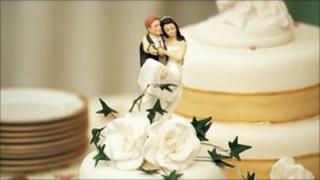 Two people arrested on Thursday ahead of their alleged "sham marriage" have been charged with immigration offences.
Officers from the UK Border Agency arrested a Polish woman and a Pakistani man in Carryduff before their planned marriage in Newtownards on Friday.
Imran Javed, 31, appeared in Newtownards Magistrates' Court on Friday and was remanded in custody.
The 18-year-old Polish woman, who was charged with assisting unlawful immigration, was released on bail.
Mr Javed is accused of seeking leave to remain in the UK by deception and obtaining leave to remain in the UK by deception having falsely claimed to be studying as a student in the UK.
A sham marriage typically occurs when a non-European national marries someone from the European Economic Area, or the UK, as a means of attempting to gain long-term residency and the right to work and claim benefits in this country.
Earl Aiken, senior criminal investigator for the UK Border Agency said: "These arrests are the result of intensive investigations into suspected sham marriages across the whole of Northern Ireland by our team of specialist immigration officers.
"They reflect how seriously the UK Border Agency takes abuse of the immigration laws."