Dollingstown FC promotion case fails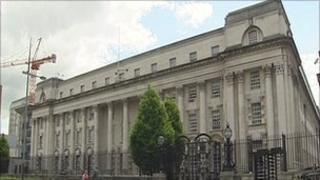 An intermediate football club has failed in a challenge over being denied promotion to the Irish Championship.
Mid Ulster League side Dollingstown FC was seeking to overturn an independent arbitration panel ruling that it had fielded an ineligible player.
At the High Court, a judge dismissed its bid to contest the decision.
He did so on the basis that Irish Football Association rules for settling disputes effectively excluded the right of appeal to the court.
Lord Justice Coghlin said: "The decision that I have reached with regard to the effect of the exclusion clause disposes of the application."
Transfer windows
He also rejected other arguments made by Dollingstown and awarded legal costs to the IFA.
The case centred on a conflict between transfer windows set by world governing body FIFA and at local level.
Dollingstown was knocked off its table-topping position following a complaint over the signing of Ashley Gregg in January.
Another Mid Ulster League Club, Tandragee Rovers FC, lodged a protest after a match between the two sides in March which Dollingstown won 3-1.
Under the rules governing the Mid Ulster Football League (MUFL) players cannot be transferred after December 31.
An independent arbitration panel endorsed the position by finding that it was an amateur-only competition.
However, lawyers for Dollingstown argued that professionals are not banned from playing in the league and that FIFA's January transfer window must apply.
If that had been held to be the case Gregg's eligibility would have been confirmed.
The club, which has spent more than £100,000 on ground improvements to meet requirements for entry into this year's Championship, would also have secure promotion.
But Lord Justice Coghlin ruled that he was not persuaded that the panel reached a perverse conclusion of fact.
He said: "Once the appropriate allowances have been made, it is clear that the panel considered the evidence called on behalf of the various parties relating to whether the MUFL was an amateur competition as defined by the FIFA regulations and, having done so, it reached the conclusion, on a balance of probabilities, that MUFL was an amateur competition."
The judge added: "Accordingly, for the reasons set out above, this application must be dismissed."