NI politicians speak of their summer reading material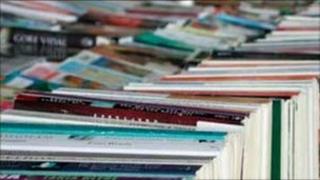 It's not often that the TUV leader is stumped on a question.
But Jim Allister was lost for an answer when asked what his favourite book was: "Oh wow. I don't know. I'd have to give that some thought."
Still, he had a book title ready when asked about his summer reading. "Off Message." That's the memoir by Bob Marshall Andrews, a Labour MP for 13 years, who was a perpetual thorn in the side of New Labour.
It's not that Mr Allister would agree with many of the former parliamentarian's views on issues such as the war in Iraq.
So, what drew him to the book?
"A bit of empathy," he said, given his own political situation. Also he was intrigued by the subtitle: "The Complete Antidote to Political Humbug".
So the book has inspired him for the next term?
"Oh yes, rearing to go!"
As for the Ulster Unionist MLA, Basil McCrea, he had a book about the late US President Abraham Lincoln tucked into his case when he headed for Chicago. He's been reading "A Team of Rivals" by Doris Kearns Goodwin.
The book is a Pulitzer prize winner and also inspired the US President Barack Obama.
"It's quite a read but it's really interesting," explained Mr McCrea. "The book covers not just Lincoln's winning of the presidency but it deals with the other four people involved in it."
Mr McCrea also points out how President Lincoln went about including his rivals in a bid to shore up his presidency.
So is the Lagan Valley MLA, who lost out to Tom Elliott in a leadership battle, looking for hints on how to secure the job in future?
Mr McCrea gave a quick chuckle before batting the question away: "Well like all things in literature... there are lessons to be learned."
Bloodshed and death
The SDLP's John Dallat also read up on history on his visit to Malta.
So what else would he read there but "Malta in the War"? A World War II book about bloodshed and death - wasn't that a bit depressing?
"It wasn't depressing because I was looking out on St Paul's Bay where all the action took place," he said.
"I suppose there was a bit of my boyhood came back again and I could visualise those spitfires in the air as they were dealing with the German planes as they came in to try to bomb the bases. So probably, to be honest it was quite exciting."
Caral Ni Chuilin, the culture minister, is busy reading "John Lennon's Dead," a book by Sile Darragh, a former republican prisoner who recounts stories of prison life, hunger strikes and resistance in Armagh prison at the time of the 1980 hunger strike.
As a republican, the culture minister was interested in the stories. But it was also a book she thought would be easy to read.
"Well I went to the book to be honest... before I went on my holidays," she said.
"It's a very small book and I just thought it would be easy to read. Because I haven't really found reading for pleasure easy for a while now."
So what does she do to escape the pressures of her job. She told the BBC she's a huge music fan and loves to unwind listening to her extensive collection of tunes.
"I get a spare moment and I just put my headset on and just do a bit of quilting," she said.
She does admit to liking the English classic novelist Thomas Hardy - particularly "Woodlanders".
Thomas Hardy is something she has in common with fellow minister Arlene Foster who also cites Hardy as an author she returns to.
Royal biographies
But Ms Foster added that she hardly ever reads fiction.
Is that, one wonders, because she reads enough fiction in her job as a minister? She laughs off the joke.
And she says her favourite books tend to be biographies, sometimes political ones, but also royal biographies. She has several on the Queen, the Queen Mother and Prince Charles.
So what did she take on her Italian holiday. "I've picked one and this is a good title, 'As Good as God and as Clever as the Devil'."
This is the story of Mary Benson, the wife of the archbishop of Canterbury in the Victorian age.
Mrs Foster says William Gladstone, a former prime minister, regarded the Victorian woman as "the cleverest woman in Europe."
But she also was not entirely conventional.
"She was married quite young and she was proposed to by her husband when she was still a teenager," Mrs Foster said.
"She was only very young when he asked her to get married and they got married and had a number of children and then after his death some time later she had a lot of female friends shall we say?"
A gay wife of an Archbishop? And if that turns out to be a dull tale, the minister has a back-up - "Diary of a Dog Walker" by Edward Stourton.