Family's car set alight in Londonderry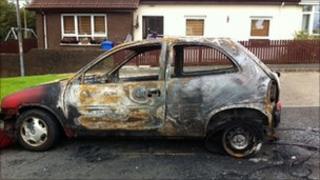 A family have escaped injury after their car was set on fire beside their house in Londonderry.
The blaze started at Slievemore Park just before 03:00 BST on Saturday.
The police said it is believed two youths were in the area at the time.
Sinn Fein councillor Tony Hassan said it was extremely fortunate that nobody was hurt in the attack.
"If there hadn't been a quick response from the fire service there might have been a tragedy," he added.