Bronagh Gallagher's soul searching: After Midnight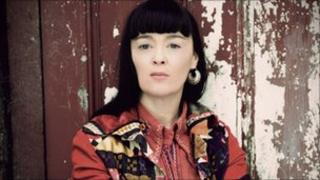 After midnight is often the time for a bit of soul searching and it will be no different when Bronagh Gallagher presents the BBC Radio Ulster show of the same name.
The Northern Ireland actress and singer shot to prominence in the film The Commitments 20 years ago.
She has gone on to star in dozens of roles on stage and screen including major movies such as Pulp Fiction, Star Wars: The Phantom Menace and Sherlock Holmes.
With a second music album also in the pipeline, you could be forgiven for thinking Bronagh's childhood memories had been locked away in the back bedroom long ago, but not a bit of it.
"For the new show it is very much about going through the archives of my record collection since the age of eight," she said.
"It will feature rare vinyl, my soul library, reggae and country.
"I love soul, blues and reggae and to have a reason to get them all together in one room is perfect.
"It's a chance to let a lot of artists shine who would perhaps be otherwise unknown to listeners who aren't anoraks like myself."
Soul and blues were of course a big part of the success of The Commitments and Bronagh said it was great to meet up with many of the stars of that film for a reunion tour earlier this year.
"The Commitments was fabulous and amazing at the time, it has a warm place in my heart," she said.
"The tour this year was great, there was a crowd of 15,000 in the O2 arena in Dublin, it was mind-blowing, no words can describe it when you walk up the ramp to that stage.
Quentin Tarantino
"I had never played a venue that big, it was powerful."
The power of her performance in The Commitments was to lead to Bronagh's appearance as Trudi in the legendary Quentin Tarantino film Pulp Fiction.
The entertainer explained how the role came about and was fulsome in her praise for Tarantino's directing talent.
"With Pulp Fiction, I was in Los Angeles and my agent from The Commitments put me forward for the job," she added.
"Quentin Tarantino loved The Commitments.
"Originally I was reading for Rosanna Arquette's part and then I got the other part.
"There was an eclectic mix of cool stars in that movie and a real buzz in the US about it at the time.
"Quentin is magic, he is a lovely guy, it was not long before I realised he was special.
"It was within 30 minutes of him coralling people into a space - it was just the way he kept the actors focused and the energy he created."
Bronagh encountered another famous film director when she got the job of a Republic cruiser captain in Star Wars: The Phantom Menace.
"With Star Wars, I was sitting in a makeshift space ship with a green screen in front of me capturing the images and George Lucas immaculate beside me like a hologram," she added.
"You would wonder how he does the garden."
A number of well-known film scores have featured the work of acclaimed record producer Brian Eno and the former Roxy Music keyboardist had a role in the Northern Ireland singer's 2004 debut album Precious Soul.
"Brian Eno is a good friend, he heard my first record, took it away and added his tinsel vibes," Bronagh said.
"He is very gifted and when he says you want to contribute, you don't say no.
"Another friend, the musician David Holmes, filled my iPod with loads of music, the likes of David Bowie and Talking Heads etc it was really good stuff.
"I didn't realise Brian had been involved with this music. When I said to Brian about it, he said I was on a roll back then."
Bronagh says her second album is expected to be released at the end of October, with a gig at Belfast's Oh Yeah Centre pencilled in for the start of November.
Soul, of course, will feature prominently.
"It is a real soul and left field eiderdown of an album, people will be quite surprised," she said.
"I am really happy with it, it is seven years since the last one, so I would need to be!"
After Midnight With Bronagh Gallagher is on BBC Radio Ulster late on Saturdays, beginning on 27 August at 00:05am. 92-95FM & DAB digital radio, digital TV and online at bbc.co.uk/radioulster