Bodies of Marion Graham and Kathy Dinsmore released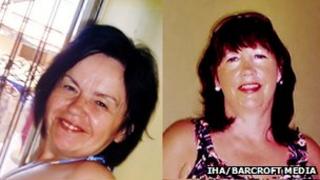 The bodies of the two Newry women murdered in Turkey last week have been released for repatriation.
Marion Graham and Kathy Dinsmore, both in their 50s, were stabbed to death in the city of Izmir on Thursday.
Ms Graham's daughter and former partner are now flying back to Northern Ireland.
The Irish Department of Foreign Affairs has said Raymond McGuinness and his daughter Shannon will arrive back in Belfast later.
The boyfriend of Shannon has appeared in court over the murders.
BBC Northern Ireland's Chris Page said he has been told by police sources that Recep Cetin originally told police he had taken the women shopping and they had been abducted.
"Police thought that story didn't really add up," he said.
"They went back to the apartment (in Kusadasi, which the two women where sharing with Shannon Graham and Mr Cetin) to investigate further and there they found some blood-stained clothing in a bag lying on the ground.
"So they arrested Shannon's boyfriend then."
He said a trial, which would be before a judge, not a jury, could last as long as two years. If convicted, Mr Cetin could face 72 years in prison - 36 years for each murder.
The women's families hope to fly their bodies home by the middle of this week.
The first full court hearing in relation to the murders is expected to take place on Monday.
Shannon's father, Raymond McGuinness and Ms Graham's son David arrived in Izmir on Saturday.
Prayers were said for the two women in churches in the Turkish city of Izmir and in Northern Ireland on Sunday.
Mr McGuinness said the identification process had been completed and his 15-year-old daughter was now his "main concern".
A niece and nephew of Ms Dinsmore have arrived in Turkey to help in the repatriation process.
Detained
The suspect, Mr Cetin, also known as Alex, works at a restaurant in the popular tourist resort of Kusadasi. He was originally reported to be 17, but Turkish police confirmed there was now doubt over his age.
It is alleged that he confessed to killing Ms Graham and Ms Dinsmore, after being refused permission to marry Shannon.
The suspect is alleged to have taken Ms Dinsmore and Ms Graham to a secluded wooded area and murdered them there.
The friends were on holiday Kusadasi, about 100km from Izmir.
Shannon was on a boat trip when the killings happened. She alerted police when she arrived home and could not get in touch with her mother.
Newry and Mourne District Council have opened books of condolence which are located at Newry Arts Centre, Newry Town Hall, Warrenpoint Town Hall, Kilkeel Leisure Centre and Crossmaglen Community Centre.