Repairs to Queen Elizabeth bridge to cost £1.3m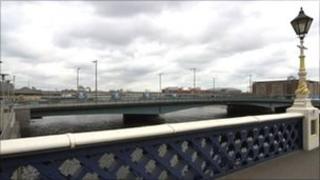 More than £1.3m in repair work has begun on the Queen's Bridge in Belfast on Monday morning, causing delays for motorists.
Transport Minister Danny Kennedy announced the 50-year-old structure will be updated over the next eight weeks.
The work includes replacing existing bridge joints as well as waterproofing.
"This will ensure that the structure remains in good condition for the future," said the minister.
The Department of Regional Development said efforts would be made to "minimise the disruption to traffic".
But it said, delays were likely at peak times.