Changes see public transport in Belfast given priority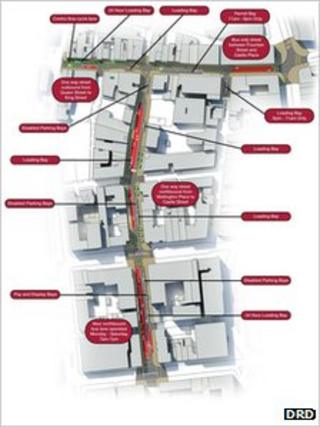 Public transport, pedestrians and cyclists are to be given higher priority in Belfast city centre.
New junction setups, traffic flows and routes for buses have been set up in five streets.
The new traffic management measures are being introduced on Monday on Queen Street, Upper Queen Street and Castle Street.
Stephen Pollock from the Roads Service said the work will not lead to roads becoming congested.
"We are hoping a lot of traffic will seek to reroute away from the city centre and don't expect any significant delays for traffic," he said.
Around 30,000 vehicles travel around the city hall every day.
Changes to traffic are part of the 'Belfast On The Move' traffic masterplan which is closely linked to the Department of Social Development's public realm improvement.
This first phase is worth £300,000
"On Howard Street and Wellington Place we are introducing two of the new junctions and there is already a pelican crossing so traffic is already stopping at those places," Mr Pollock said.
"We will now be able to facilitate the cross-movements for the buses.
"The other benefit is we will be able to introduce controlled crossings for the pedestrians so they will have green men at all four legs of the junctions," he added,
"As Donegall Place has become one way, bus movements which used to travel in a north bound direction towards Royal Avenue will now be rerouted which will mean three of the existing bus stops will be moving to Upper Queen Street."
These changes will come into effect on 1 September.
The second phase called Sustainable Transport Enabling Measures (STEM) will offer more extensive bus lanes and proposals.
More radical change
These will be published in the autumn as part of detailed consultation process.
Mr Pollock said the second phase will "bring much more radical change which will reduce the number of traffic lanes".
The new measures have been welcomed by Alliance Party MLA Stewart Dickson.
"We need to get more people out of their cars and into using more sustainable types of transport," he said.
"These changes to traffic management in Belfast city centre are very welcome, however, they must be complemented by more money being spent on public transport to increase the number of routes and frequency of services."