Brendan Lillis release - DUP MLA to meet Parole Commissioners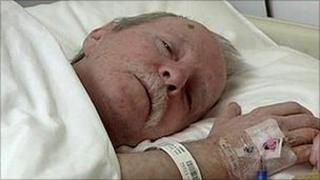 DUP Justice Committee Chairman Paul Givan is it to meet with the Parole Commissioners to discuss the release of republican prisoner Brendan Lillis.
Mr Lillis, who suffers from a severe form of arthritis, was released last week after a campaign by his family.
In a statement the commissioners said they had not bowed to pressure.
However, unionist politicians criticised the decision, comparing it to the release of the Lockerbie bomber.
Mr Lillis was sentenced to life in 1977 on explosives charges, but was freed on licence in 1993. It was revoked in 2009 after he was arrested on robbery charges.
The 57-year-old suffers from the arthritic condition, ankylosing spondylitis.
He was being held in Maghaberry Prison but was transferred to Belfast City Hospital where he is expected to remain for some time.
Mr Givan is due to meet the Parole Commissioners later on Monday.