Derry teenager Damian McGinty lands Glee role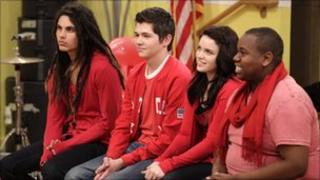 An 18-year-old from Derry has won a competition to star in the next series of the hit American TV show Glee.
Damian McGinty beat over 40,000 hopefuls to win along with 19-year-old Samuel Larsen from Los Angeles.
The competition, which has been running in the United States for the last ten weeks, gives the joint winners the chance to appear in guest roles in seven episodes in season three.
The teenager was described as the "most likeable and most improved" competitor in the Glee Project.
Despite admitting struggling at the beginning, Damian said he "turned it around".
"Not in my wildest dreams did I imagine this happening. I mean, I have always wanted to reach the top, but there are millions of other people in the world who want to be there too… so I don't understand how I have struck so lucky," he said.
"I feel honored, I feel amazed, I just feel incredible."
Damian has also travelled the world with Irish singing group Celtic Thunder since he was 14.