Twelfth "riot ringleader" denied bail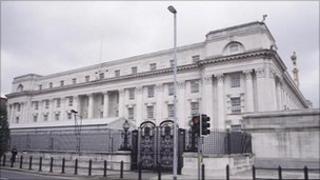 A 17-year-old youth, alleged to have been the ringleader of riots in the Markets area of Belfast over the Twelfth, has been refused bail.
Four police officers and 10 cars were damaged during the trouble which took place from 10-12 July.
The accused, who cannot be named for legal reasons, faces seven charges arising out of the disturbances.
He denied the charges of rioting and disorderly behaviour.
A lawyer told the court the teenager was identified by police and was also captured on CCTV footage throwing petrol bombs.
The court heard it appeared he was the ringleader of the rioting.
The lawyer added that during five hours of disturbances on the Twelfth, the teenager changed his clothing five times.
The court heard that community tensions were still high in the area and that with more contentious parades due to take place, the PSNI were objecting to the release of the teenager.
The accused is also charged with indecent behaviour relating to an incident which took place during the trouble.
He is also charged with causing criminal damage at Musgrave Street police station where it is alleged he carved the letters YMH - standing for Young Markets Hoods - into a mattress of a cell.
A defence lawyer said the accused accepted he was present during the tail end of the disturbances on the Twelfth but he denied charges of rioting and disorderly behaviour.
The judge, Mr Justice Hart, said there appeared to be a prime facie case and he refused bail.