Habinteg: Alleged corruption investigated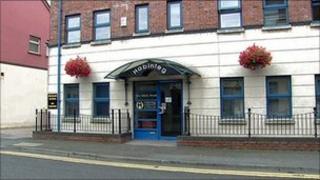 A case of alleged public corruption is under investigation at one of Northern Ireland's largest housing associations, Habinteg, the BBC has learned.
It follows a previous case of actual fraud at the association.
Habinteg is the fifth-largest housing association in Northern Ireland with an annual turnover of £35m.
It is one of a group of seven that are currently suspended from building new homes by the Department for Social Development (DSD).
An inspection report carried out by officials from the DSD - and seen by the BBC - reveals that there is a case of alleged fraud, also referred to as public corruption, at Habinteg.
The inspection report was published in May last year, but the details have not been made public until now.
Under a section called "Alleged Fraud/Public Corruption" the report says: "This matter is with the police and is subject to an on-going investigation."
Forged signatures
It adds that Habinteg "believes that this is moving very slowly as the PSNI are currently seeking a third party in connection with the case".
This alleged fraud case follows a previous example of actual fraud at Habinteg when forged signatures were detected on 12 cheques to the value of £26,000 written during 2007 and 2008.
According to the report "the association's bank has repaid all the monies associated with these cheques".
In this instance, a former member of staff was charged. The case was brought before the courts and the former Habinteg employee was convicted.
An internal audit was carried out after the fraud and alleged fraud came to light, but the DSD report was critical of Habinteg's reaction to it.
The report said there was a lack of an appropriate response which it describes as "incomprehensible " in light of "the association's history of internal fraud" in recent years.
The inspectors looked at different aspects of Habinteg's performance such as financial and property management, property development and governance.
Overall, Habinteg got the lowest grade possible which is termed "No Assurance".
This is defined as where "internal systems have failed". Housing associations which receive this grade are "considered a high risk to themselves and the public funds they might receive."
A Habinteg spokesperson said: "Habinteg has responded positively to the report from its funding body, the DSD, following the audit inspection in 2009.
"The association has drawn up an action plan, agreed with the DSD to resolve any outstanding concerns and is proactively driving through improvements to ensure best practice and full compliance with all recommendations."
Public housing in Northern Ireland is provided by housing associations of which there are about 30, although seven are currently suspended from building new homes by the DSD.
The associations fund their house building programmes from two main sources - grants from the Northern Ireland Executive and money raised through the private sector.