Preparations under way ahead of Tennent's Vital gigs in Bangor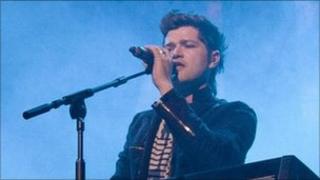 More than 60,000 people are expected in Bangor over the next two days for the Tennent's Vital Concert in Ward Park.
The Script and Eminem are headlining the gigs on a 60m stage, the largest ever to have been built in Northern Ireland.
Project manager with music promoters MCD, Turlough McShane said: "This stage system is used throughout the world for all major concerts.
"It was delivered on 18, 45ft trucks and has taken five days to build."
It also has two bars almost 70m long, 300 toilets and 400 urinals.
Paul Scott is a safety advisor and said it will take a lot of electricity to power the event.
"We have over 55 generators and that will be enough to power a small town," he said.
VIP
"There is also an instrument on the top of the stage that measures wind, so it there is a storm there's no risk of it falling over, like in other recent incidents elsewhere in the world."
The BBC got back stage access to the VIP area where the guests will be staying.
There are dressing rooms with bean bags and draped walls.
There is an outside area with garden furniture and a specially constructed wooden pond for expensive fish to go into, apparently at the request of Eminem, such requests are known as a 'rider' in the business.
Translink have put on extra buses and trains and have advised people not to travel between 1600 BST to 1800 BST to avoid any rush hour traffic in Bangor.
The services will run into the early hours and thousands of passengers have already booked tickets.
Ursula Kelleher from Translink said: "A half-hourly train service will operate from Great Victoria Street/Belfast Central Station to Bangor on both days, and a special rail shuttle service will return from Bangor to Belfast following the concert until 0045 BST with onward connections to Carrickfergus, Lisburn, Portadown and Coleraine."
The police will have dogs and will be using them to search concert-goers for illegal or banned items, like drugs.
They are also operating an 'honesty bin' so people can throw away anything they maybe should not have brought to the concert with them.