Bodies of Marion Graham and Kathy Dinsmore due home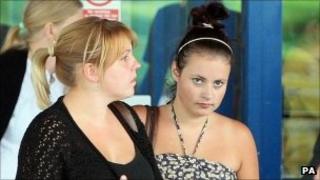 The bodies of the two Newry women murdered in Turkey are due home this week.
Marion Graham and Kathy Dinsmore, both in their 50s, were stabbed to death in the city of Izmir on Thursday.
Recep Cetin, the boyfriend of Ms Graham's daughter Shannon, has appeared in court over the murders.
Shannon returned to Northern Ireland with her father on Monday night. The women's families hope to fly them home by the middle of this week.
BBC Northern Ireland's Chris Page, who is in Turkey, said Mr Cetin had "told everyone, including his girlfriend, that he was 17 years-old, but police sources have told me he actually is older".
The serious doubt over his age could determine the length of time he spends in jail. He could receive up to 72 years in prison if convicted.
"If he went to juvenile court the sentence he could have expected for a double murder would have been more than 40 years - probably less than 50," he said.
"If he goes to an adult court, the typical sentence is 36 years per murder, so he could be facing 72 years in jail if he is convicted.
"Turkish people will actually complain that the justice system here is very slow.
"Big legal cases like this typically take two years, maybe even slightly more, so if the suspect is charged as we expect we could be in for a lengthy trial process.
"It is similar to the UK system in that the defence and prosecution teams are appointed and witnesses are cross-examined, but one of the main major differences is that cases like this are tried before a judge only - not a jury."
The bodies of the two Newry women were released from a mortuary in Izmir on Monday and a funeral director is making arrangements for their bodies to be flown home.
Police sources told our reporter that Recep Cetin originally told police he had taken the women shopping and they had been abducted.
"Police thought that story didn't really add up," he said.
"They went back to the apartment (in Kusadasi, which the two women where sharing with Shannon Graham and Mr Cetin) to investigate further and there they found some blood-stained clothing in a bag lying on the ground.
"So they arrested Shannon's boyfriend then."
Detained
The suspect, Mr Cetin, also known as Alex, worked at a restaurant in the popular tourist resort of Kusadasi.
It is alleged that he confessed to killing Ms Graham and Ms Dinsmore, after being refused permission to marry Shannon.
The suspect is alleged to have taken Ms Dinsmore and Ms Graham to a secluded wooded area and murdered them there.
The friends were on holiday Kusadasi, about 100km from Izmir.
Shannon was on a boat trip when the killings happened. She alerted police when she arrived home and could not get in touch with her mother.
Newry and Mourne District Council have opened books of condolence which are located at Newry Arts Centre, Newry Town Hall, Warrenpoint Town Hall, Kilkeel Leisure Centre and Crossmaglen Community Centre.